INTERSTICES: Journal of Architecture & Related Arts Issue 22
2023-02-10
Call for Creative Design Research Projects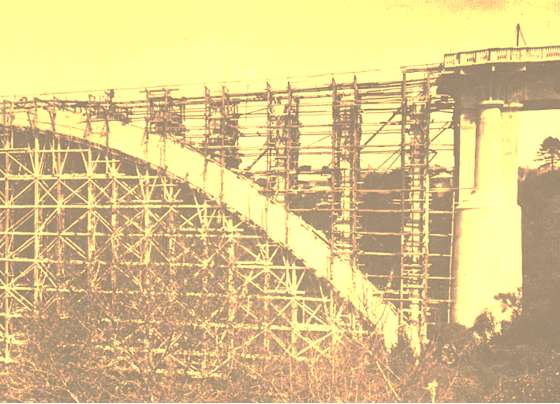 Beattie & Co. (modified), (1909). Postcard – "Grafton Bridge during construction with scaffolding beneath the single main arch" [Source: Wikimedia Commons - https://commons.wikimedia.org/wiki/File:Grafton_bridge_during_construction_(before_1909)_01.jpg]
Continuing our commitment to publish the work of emerging design researchers, Interstices: Journal of Architecture & Related Arts invite postgraduate or recently graduated researchers in architecture and related art and design fields to submit projects for the journal's peer-reviewed, creative design research section.
Projects should be complete at the time of submission and include an explanatory synopsis of 1,500 – 2,000 words.
Project documentation and the synopsis should:
Be original and unpublished previously
In the case of visual material, include up to ten indicative views of the proposal
In the case of moving image, animated sequences, or audio works, not exceed four minutes duration
Include a scholarly and critically situating synopsis for the project coauthored by both the project's creator and the supervisor(s) involved (if applicable). The synopsis should bear the name of the researcher as the primary author and the supervisor (if included) as the secondary author
Exhibit, if feasible, a relationship with the journal issue theme – "The Urban Historical". Note: papers for Issue 22 will be derived from a joint conference held by SAHANZ and the Australasian UHPH Group in November 2022. For details of this conference titled "Ngā Pūtahitanga / Crossings", see - https://www.sahanz.net/conferences/nga-putahitanga-crossings-a-joint-conference-of-sahanz-and-the-australasian-uhph-group/
Visit our website to view the Guidelines for Submissions for details about the reviewing process, copyright requirements and formatting: https://interstices.ac.nz/index.php/Interstices/Style_Guide.
All submissions will be blind refereed by an invited panel.
Issue 22 journal editors are: Julia Gatley & Elizabeth Aitken Rose (University of Auckland)
Timeline (2023)
17 March - submission deadline
21 April - project peer reviews due
12 May - editing & proofing complete
26 May - design & finalisation
1 June - issue publication
Please submit full project documentation for the creative design research section of Interstices 22 to Andrew Douglas (andrew.douglas@auckland.ac.nz) by 17 March 2023.
We look forward to your contribution!