Interstices Issue 18: Surface / Pattern a pursuit of material narratives CFP
Tina Engels-Schwarzpaul

susan Hedges

Ross Jenner
Abstract
Interstices Journal of Architecture and Related Arts Issue 18: Surface / Pattern a pursuit of material narratives
Surface and ornament have been extensively reviewed, admonished, discarded and pursued. More recently there has been a renewed interest in the writing of Aby Warburg and Alois Riegl, while numerous studies have addressed these issues relative to Semper, Adolf Loos, Hermann Muthesius, and Le Corbusier. They have been made prominent by issues of animation and digitation.
Incrustations, protuberances, textured expressions, smoothed surfaces, surfaces enlivened as screens, are they ornament or cladding? Interstices 19: Surface / Pattern a pursuit of material narratives pursues the tension between ornament, adornment, object enlivenment, cladding, surface and pattern, and an exploration into the strange animations inherent in surface-pattern continua.
It is with this sense of the spatial effects potentiated by surface pattern that we may consider surface / pattern at a range of complex scales, like territory and landscapes, built assemblages and 'cladding', interior surfaces, décor and furniture, sculpture or objects of the decorative arts.
This journal issue is motivated by the renewed fascination with the architectural surface and the expressive effects it mobilises – effects that both eschew and uneasily dabble in the decorative. Material mediation has become a means for experimentation, a way of teasing out smooth geometries, tessellated patterns, iconic figures and textures, which may all also perform technical functions, like joining or harmoniously accommodating incremental and differential movement.
Call for Papers
Interstices: Journal of Architecture and Related Arts invites submissions for issue 19 of the journal due for publication in December 2017. Authors may submit academic and practice-oriented, fully written as well as visual, contributions for this issue. Call for papers can be found at the following site
http://interstices.ac.nz/interstices-19/
Please submit full papers for the Interstices 19 journal issue to Sue Hedges (shedges@aut.ac.nz) by 31st July 2017.
Submissions may comprise up to 5000 word papers or visual/audio/moving image works with an accompanied text of approximately 500 words. All submission will be double blind refereed.
The journal's non-refereed section welcomes papers up to 2500 words, as well as project reports and reviews of up to 1000 words. Visit our website to view the Guidelines for Submissions for details about the reviewing process, copyright issues and formatting: http://interstices.ac.nz/information-for-contributors/guidelines-for-submissions/
We look forward to your contribution!
Journal editors: Ross Jenner, Sue Hedges, Tina Engels-Schwarzpaul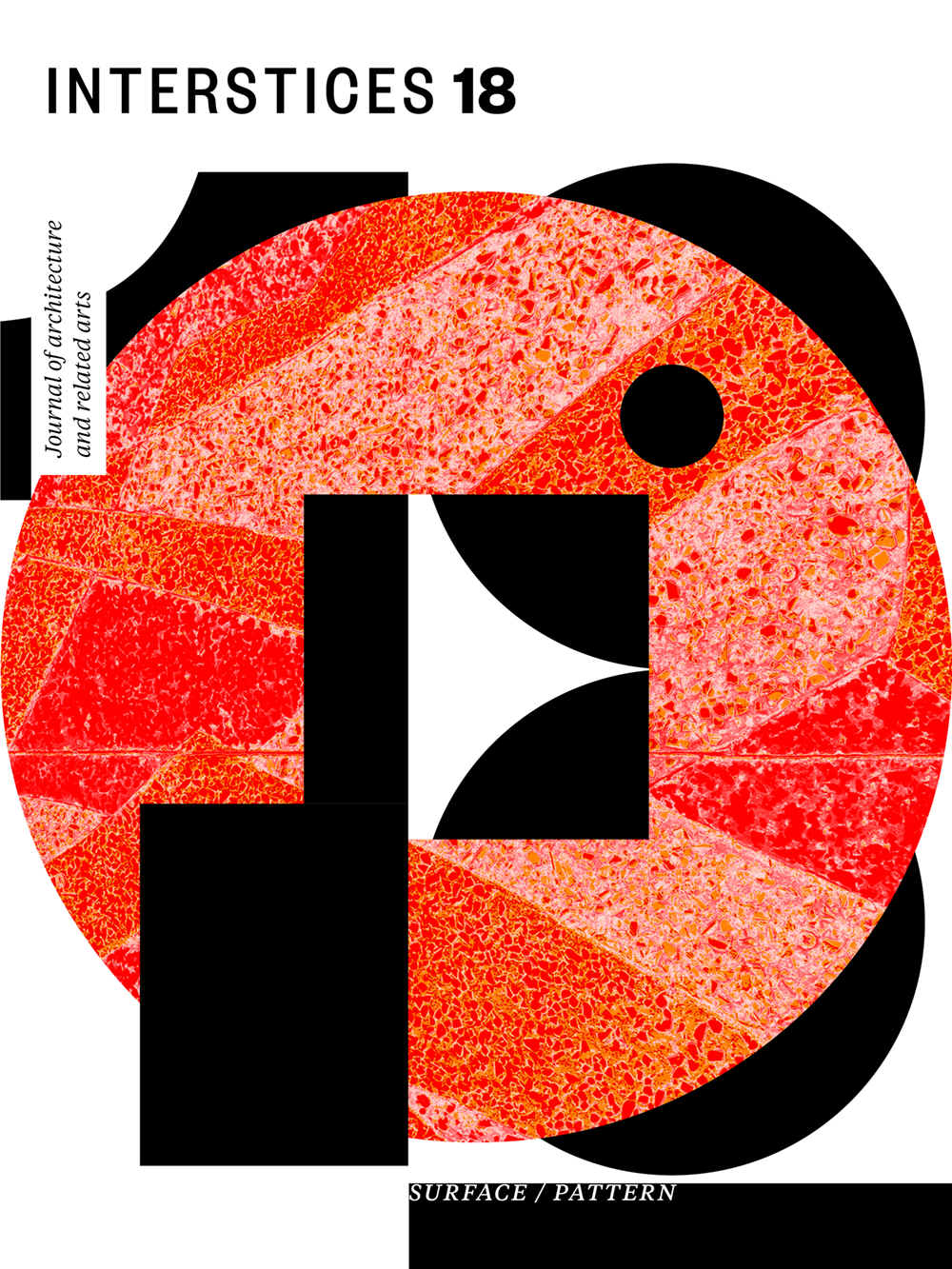 How to Cite
Engels-Schwarzpaul, T., Hedges, susan, & Jenner, R. (1). Interstices Issue 18: Surface / Pattern a pursuit of material narratives CFP. Interstices: Journal of Architecture and Related Arts, 18(18), 1. Retrieved from https://interstices.ac.nz/index.php/Interstices/article/view/615
Section
Related News & Events