Interstices Issue 17: Return to origins CFP
Andrew Douglas

Susan Hedges

Ross Jenner
Abstract
Interstices: Journal of Architecture and Related Arts invites submissions for issue 17 of the journal due for publication in late 2016. Authors may submit academic and practice-oriented, fully written as well as visual, contributions for this issue. While there is no specific thematic, for the first time since Issue 01, authors may choose to focus on the issue's sub-theme, Return to Origins, when considering submissions.
Please submit full papers for the Interstices 17 journal issue to Dr Sue Hedges (shedges@aut.ac.nz) by 8 August 2016.
Submissions may comprise up to 5000 word papers or visual/audio/moving image works with an accompanied text of approximately 500 words. All submission will be double blind refereed.
The journal's non-refereed section welcomes papers up to 2500 words, as well as project reports and reviews of up to 1000 words. Visit our website to view the Guidelines for Submissions for details about the reviewing process, copyright issues and formatting: http://interstices.ac.nz/information-for-contributors/guidelines-for-submissions/.
We look forward to your contribution!
Journal editors: Andrew Douglas, Ross Jenner, Sue Hedges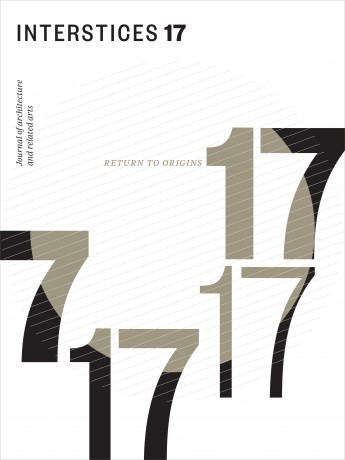 How to Cite
Douglas, A., Hedges, S., & Jenner, R. (1). Interstices Issue 17: Return to origins CFP. Interstices: Journal of Architecture and Related Arts, 1. Retrieved from https://interstices.ac.nz/index.php/Interstices/article/view/618
Section
Related News & Events