2023-04-05
CALL FOR PAPERS
Interstices: Journal of Architecture & Related Arts – Issue 23
Architectures of Love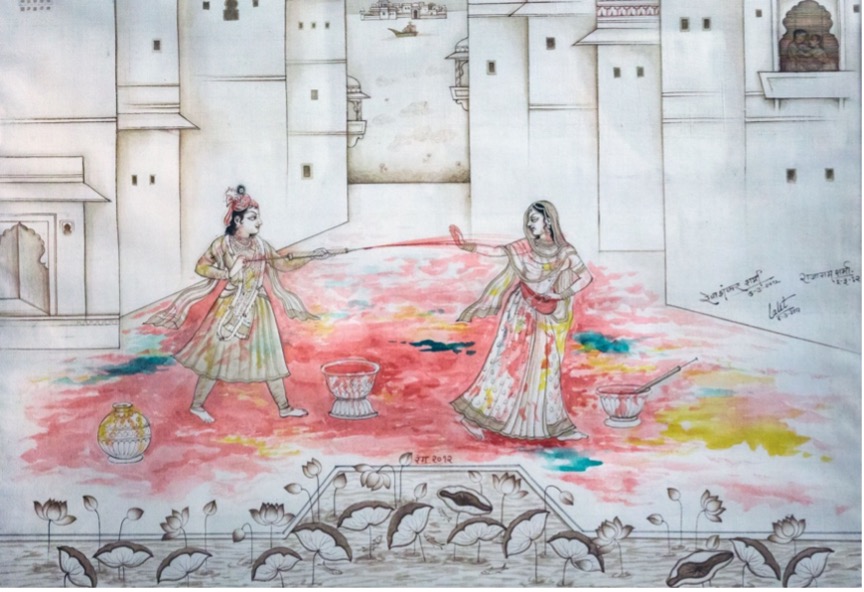 "Radha and Krishna playing Holi". Painting presented to Shriji Arvind Singh, Mewar of Udaipur, during Holika Dahan 'Rang' - March 2012. City Palace in Udaipur, India. [Source: Wikimedia Commons, photograph, David Clay, 2018]
[…] sexuality and love do not live in the bedroom of Oedipus, they dream instead of wide-open spaces, and cause strange flows to circulate that do not let themselves be stocked within an established order.
Gilles Deleuze & Felix Guattari[1]

Lover, beloved and the space between them […] There is something essential to eros here.
Anne Carson[2]
Building on the remediating orientation set by the "Fixing" issue of Interstices: Journal of Architecture & Related Arts, Issue 23 invites papers that inquire into the coupling of love and architecture. We ask how love is, or may have been, an underlying motivator of built and speculative spaces, and how the materiality of both may sustain object-attachments for ongoing expressions of amorous affect?
Estimated Timeline:
5 April 2023 - Issue of Call For Papers (CFP)
24 July 2023 – submission of full papers (email to andrew.douglas@auckland.ac.nz)
31 August 2023 – notification of accepted papers
15 September 2023 – one day authors' workshop (in-person & online)
20 October 2023 – completion of paper editing
5 November 2023 – final proofing approval
Publication release 20 December 2023
[1] Gilles Deleuze & Felix Guattari, Anti-Oedipus: Capitalism & Schizophrenia, Vol. 1, trans. Robert Hurley, Mark Seem, Helen R. Lane (Minneapolis & London: University of Minnesota Press, 2000), 116.
[2] Anne Carson, Eros, the Bittersweet (Princeton, NJ: Princeton University Press, 2015), 77.
Read more about CFP Issue 23: Architectures of Love